ReviewInc: A Reputation
Management Platform
ReviewInc is a reputation management platform that leverages automation tools to generate reviews, powering businesses to build and manage their online reputation.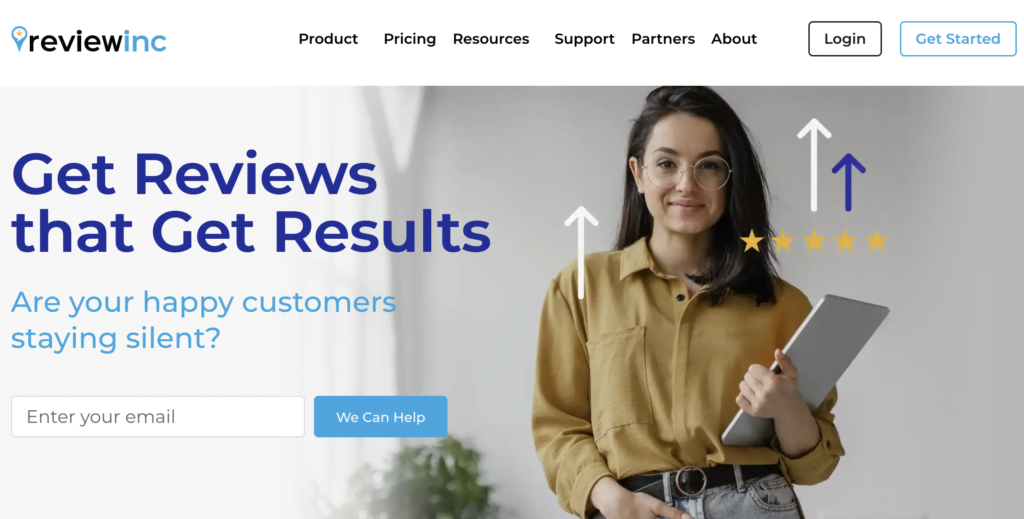 What is ReviewInc?
ReviewInc is a review management software that generates and customizes reviews and facilitates integration with various third-party systems such as Zapier, Salesforce, Google, Facebook, and more.
They provide comprehensive online reputation management and customer experience software to help businesses of all sizes. Their dashboard gives administrators the ability to configure access permissions for team members, gain visibility into employee performance, and upload data about campaign recipients in bulk via CSV or Microsoft Excel files.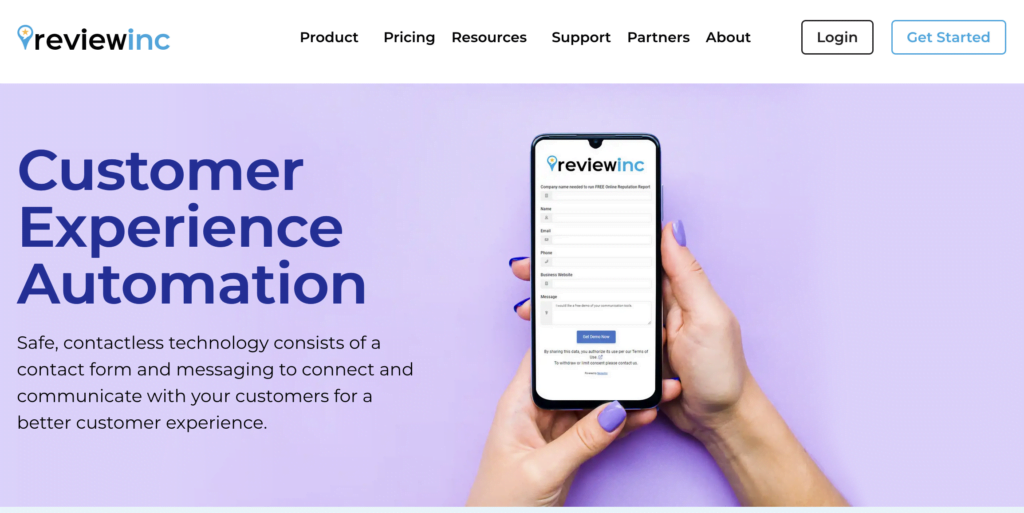 Organizations can easily track the success of their marketing campaigns with tangible ROI results, embed review collection widgets into their corporate websites or social media pages, and keep their clients' information private and safe, all while adhering to HIPAA standards.
Who is ReviewInc for?
ReviewInc offers reputation management tools and customer experience software to a broad range of businesses and industries. From automotive dealerships to dental services, hospitality to legal services, property management to retail stores, and the like. Their platform provides a central hub to manage customer reviews and online reputation in one place.
At ReviewInc, they believe in the power and importance of reviews, dedicated to helping business owners understand and embrace the importance of a good reputation score. They strive to provide business owners with the knowledge they need to ensure their online reputation is strong and that they have an understanding of how important reviews are.
ReviewInc Cost and Pricing
(Pricing model evaluation: March 2023)
Although ReviewInc doesn't have plan prices listed on its website, its most basic plan is called "Monitor" which does not generate reviews, but includes a customizable dashboard, and the ability to reply to Google and Facebook reviews.
They also have the "Basic" and "Pro" plans which pricing is also not indicated on their website. Both of these plans have the ability to generate reviews, access listings in one dashboard, and all other basic features.
Their "Enterprise" plan has all the full features but you would need to contact their support for pricing.
One of the cons is ReviewInc does not have a free plan compared to all other similar alternatives in the market that offers a free trial for a certain number of days.
ReviewInc and Profile Rankings are both online management tools that have the ability to generate and collect reviews, customize dashboards, automate review requests, send emails and text campaigns, and reply to reviews straight from the dashboard.
Gain greater control over how reviews are experienced by your customers with the moderation and customization capabilities provided by both platforms. With these features, you can guarantee that only favorable feedback is displayed.
However, there were some disadvantages spotted for ReviewInc. Many users have experienced that the updates are sometimes challenging to overcome since the system is so robust. They had a hard time getting started with the proper format because their layout was a little tricky. Their software is comprehensive and feature-rich which means it can take a little bit longer to learn every single feature.
Cost, feature set, and customer service response time are pivotal factors to consider when selecting the perfect software solution for your needs. Each of these elements plays an important role in ensuring the quality, efficiency, and support your organization deserves.
ReviewInc Alternatives
When selecting the perfect platform for your business, it's important to weigh the pros and cons of each feature against your unique requirements. With options ranging from Reputation Brief and Profile Rankings to Podium, Stamped, and Reviewflowz, you can find the perfect tool to help improve your business's presence and customer reviews. Make sure to compare the features of each platform to find the best fit for your business.
Take the time to carefully consider each platform's features, packages, and services to find the perfect fit for your business. The right choice can help you improve customer reviews and build a stand-out presence in the market.
About Profile Rankings
Profile Rankings is an online reputation management tool that helps you take control of your brand's online presence and boost your ratings and reviews with custom automation from all the top sources, including Google, Facebook, Yelp, Trip Advisor, Yellow Pages, Amazon, and more. Their easy-to-use dashboard lets you monitor your performance and identify new growth opportunities in one convenient place.
Their comprehensive reputation intelligence and insights provide you with the trustworthiness your brand needs and deserves. Whether you're an individual, a business, or a global brand, you can count on Profile Rankings to help you understand and manage your reputation.